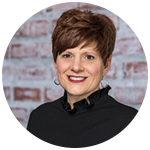 Lisa Arnold
President/Chief Executive Officer
Lisa Arnold joined Home Bank in 1985. Her community affiliations have included the Martinsville/Mooresville Kiwanis Clubs, Junior Achievement, Community Foundation of Morgan County, Relay for Life, Habitat for Humanity, Morgan County Extension Board and the Foundation of Indiana University Health Morgan Hospital Foundation. Arnold was also a former director for the Martinsville and Mooresville Chambers of Commerce and was named 2007 Businesswoman of the Year by the Greater Martinsville Chamber of Commerce. She is currently a member of the Indiana Bankers Association Board of Directors and Executive Committee. Arnold was also a former president of the Future Leadership Division of the IBA. Arnold earned a bachelor's degree from Franklin College, an MBA from Indiana Wesleyan University, and is a graduate of the ABA Stonier Graduate School of Banking and the ABA National Commercial Lending School.
You're now leaving Home Bank
The privacy policies of this external website may differ from our privacy policies. Please review the privacy policies and security indicators displayed on the external website before providing any personal information. We are not responsible for the content on third party websites.