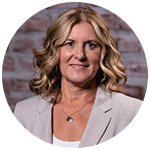 Melissa Fisher
SVP/Chief Operations Officer
Melissa Fisher joined Home Bank in 2008, previously serving as Vice President and Director of Deposit Operations. She is a graduate of the IBA Leadership Development Program, TrueU Leadership Program, and the ABA Stonier Graduate School of Banking (University of Pennsylvania).
You're now leaving Home Bank
The privacy policies of this external website may differ from our privacy policies. Please review the privacy policies and security indicators displayed on the external website before providing any personal information. We are not responsible for the content on third party websites.